Our Puzzles
Just like other gift shop merchandise, Jigsaw Puzzles are usually an impulse buy for visitors looking to take home a reminder of their visit. Best-selling puzzles are usually ones that make a connection between the visitors and the location (museum, local attraction or notable landmark) that invokes an emotional connection. The visitor feels like they are getting a little bit of the museum or attraction to take away with them.
…and that's our specialty.
From your artwork, we will manufacture a range of custom printed Jigsaw Puzzles specifically for your location. Unique to your shop, these will not be available anywhere else.
We make it easy for you to test market a small range of puzzles in your store to find out which images sell. The successful ones can be reordered in larger quantities at lower costs. Our minimum order quantity is just 64 puzzles and within this, you can have a number of puzzle designs.
As with most printed items, puzzle costs will reduce with bigger orders. Our quantity/price breaks depend on the puzzle size you choose but are around 64, 112, 240, 512, 1000, 2500, and 5000 puzzles. We can however quote you for other order quantities. Just request a quote and we would be happy to work out a price for you.
For smaller order quantities, we photographically reproduce your artwork to make a print similar to that produced by your local photo lab. This offers excellent picture quality and lasting color and gives a quality feel to the puzzle.
For large order volumes, we use a 4 color offset print technology to produce the puzzle image. This also produces a high-quality print but at a lower cost per print for larger print runs. Using high-quality specialized puzzle adhesive, the puzzle print is then sealed to a strong "Grade A" quality cardboard backing and then die cut to produce the puzzle pieces.
The success of a Jigsaw Puzzle is undoubtedly tied to the quality and "wow" factor of the image. Just like a postcard or a poster, a puzzle with an awesome image will sell itself. A great puzzle image will be sharp and in focus, have lots of foreground and background detail, and be colorful.
Puzzle images often benefit from color and contrast enhancement to make them really "pop". Our Graphics Design team uses their skills to ensure your images are presented in the best way possible.
The puzzle box is the packaging for the jigsaw puzzle and therefore needs to present the puzzle image and your branding in the best possible way. A customer's decision to purchase will be based on how the puzzle image is presented on the box and therefore it needs to stand out. To add contrast, we generally recommend using a black box to bring out the color and detail of the image.
For smaller orders, we use a pre-printed black box and attach a custom-designed label to the top and sides reflecting the puzzle image and your branding. For larger orders, we will 4 color offset print the box. In both cases, we generally enclose the box in shrink-wrap plastic to protect it on your store shelf.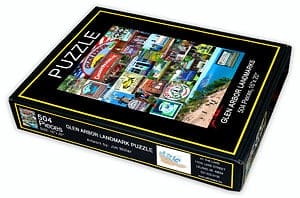 Our Graphics Design team will work with you to design the layout of your puzzle box and incorporate your branding and other information. We always prepare a 3D preview for you to see how your box will look. Once approved, we will proceed to production.
Our puzzles go through various quality control checks at each stage of the printing and production process. Upon request, we can produce a sample puzzle based on your selected image before you order, so you know exactly what to expect from us.
We do take extra care when packing puzzles to ensure that no pieces are lost at this stage. Mistakes, however, do happen to both us and our customers, so it is impossible to tell exactly where a puzzle piece went missing. For this reason, where possible, we produce and ship a few additional puzzles with your order, so you have spares in case you need to replace a puzzle.
We create and design our own puzzle dies, so the layout of the piece cut is unique to us. Ask any puzzler and they will tell you that a puzzle where all the pieces are the same size and shape becomes boring and frustrating after a while. A good puzzle will have a variety of piece shapes. For this reason, we offer a range of piece sizes and shapes in all of our larger puzzles.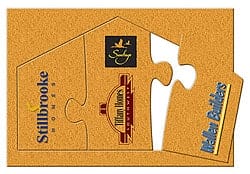 Sometimes you need a specially shaped puzzle or a specific number of pieces. To meet these special needs, we can create and design a custom die-cut specifically for you. If your project requires a non-standard design, then send us the details and we would be happy to quote you for this. Minimum order quantities for custom die design orders start at 500 puzzles.