Our Custom Made Puzzles
As a company, we understand that our clients have diverse requirements when it comes to custom made puzzles. Whether you're an individual artist or photographer looking to launch your first line of bespoke "limited edition" puzzles; a museum or tourist attraction seeking unique merchandise for your gift store, or a corporate training department in search of creative ways to get their message across, we're here to help.
Our experienced team works closely with each client to turn your puzzle vision into a reality, offering an all-in-one service from concept to product design, manufacturing, and after-sales support. You will work closely with one of our experienced account managers to bring your puzzle vision to reality. We provide an easy and painless way to produce your own range of custom-printed puzzles.
Eco-Friendly Puzzles: Minimizing Our Environmental Impact
We are committed to being environmentally conscious and using sustainable materials in our production process wherever possible. We understand the importance of reducing our environmental impact and strive to make our puzzles as eco-friendly as possible. From using grade A recycled cardboard for our puzzle pieces to printing with plant-based inks, we are dedicated to minimizing our use of non-renewable resources and reducing waste. We believe that it is our responsibility to do our part in protecting the planet, and we will continue to explore ways to improve our sustainability efforts.
Choose an Order Quantity That Work For You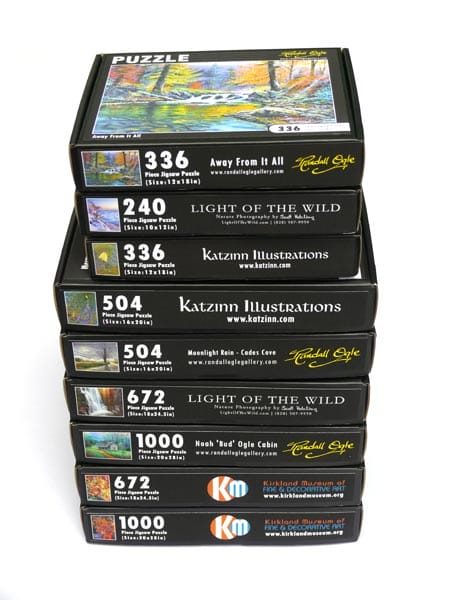 Our low minimum order quantities of just 64 puzzles make it easy for you to test market a small range of puzzles in your store, without having to commit to a large order. This way, you can find out which designs your customers are most interested in, without having to invest too much upfront.
Within this minimum order quantity, you can have up to 4 different puzzle designs. This allows you to test market a small range of designs and reorder successful ones, therefore maximizing your profits and meeting the needs of your customers.
Once you have a good idea of which designs sell best, you can easily reorder them in larger quantities at lower costs. You can make sure you always have the puzzles that your customers want in stock, without having to worry about overstocking on designs that don't sell as well.
As with most printed items, puzzle costs will reduce with bigger orders. Our quantity/price breaks depend on the puzzle size you choose but are around 64, 112, 240, 512, 1000, 2500, and 5000 puzzles. We can however quote you for other order quantities. Just request a quote and we would be happy to work out a price for you.
---
Puzzle Prints with Lasting Color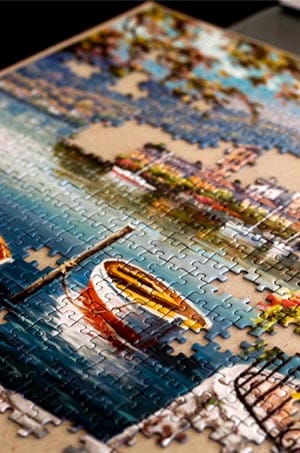 We offer two options for reproducing puzzle images depending on the order quantity.
For smaller orders, we use a photographic reproduction process to create a print similar to what you would get from a local photo lab. This method produces excellent picture quality and long-lasting color, resulting in a puzzle with a silk finish and a premium feel. An image file saved in an RGB format is required for this print method.
For larger order volumes, we utilize 4-color offset print technology to produce high-quality puzzle images at a lower cost per print. 4-color offset printing is a printing technique commonly used in the production of high-quality printed materials such as magazines, brochures, and puzzles. An image file saved in a CMYK color format is required for this print method.
Our team will work with you to make sure that the image format is appropriate for the number of custom made puzzles you are ordering.
---
The "Wow" Factor: How Image Quality Affects Puzzle Appeal

The success of a Jigsaw Puzzle is undoubtedly tied to the quality and "wow" factor of the image. Just like a postcard or a poster, a puzzle with an awesome image will sell itself. A great puzzle image will be sharp and in focus, have lots of foreground and background detail, and be colorful.
A great puzzle image should be sharp and in focus, with plenty of foreground and background detail. This not only makes the puzzle visually appealing but also adds to its complexity, making it more challenging to solve. Additionally, a puzzle with vibrant colors is more likely to attract attention and stand out from the crowd.
To achieve the desired level of image quality and appeal, puzzle images often require color and contrast enhancements. Our experienced Graphics Design team has the expertise to ensure that your images are presented in the best way possible. They work closely with clients to understand their vision and create an image that meets their expectations. Using advanced design tools and techniques, our team can adjust the color, contrast, and brightness of the image to enhance its visual impact.
---
---
Packaging Options for Your Custom Puzzle
When it comes to packaging your custom puzzle, we offer three different options to suit your needs: Boxed Puzzle, Ziplok Poly Bag, and Flatpacked.
Boxed Puzzle: This option is perfect for smaller quantity orders of 350 or less of a single design. We use a pre-printed black flip-top puzzle box to which we attach a full-color, custom-designed printed label. Our graphic design team is happy to work with you to design the box layout for free. For larger order quantities of 350 or more of a single design, we offset print a custom-designed puzzle box. In this case, all sides of the box can be printed on. The box with the puzzle enclosed is then shrink-wrapped for added protection.
Ziplok Poly Bag: This option is ideal for customers who have their own box or another packaging they wish to use. In this case, the puzzles are broken up, and the pieces are sealed in a ziplock poly bag. No other packaging is provided.
Flatpacked: This option is suitable for smaller-sized puzzles such as 4.5×6.5in or 8x10in, etc. The puzzle is packed flat on a cardboard backing plate, then inserted into a resealable cellophane envelope. A flyer or print can also be included at the back of the puzzle if required.
Which Option is Right for You?
The packaging option you choose for your custom puzzle will depend on a few factors, including the number of puzzles you order, the size of the puzzle, and whether you have your own packaging solution in mind. If you are unsure which option is right for you, feel free to contact us, and our team will be happy to guide you through the process.
---
A Puzzle Box that Pops
The puzzle box plays a crucial role in the packaging of a jigsaw puzzle as it showcases the puzzle image and displays the client's branding. In order to enhance the color and detail of the image, we utilize a black box. The sales success of a puzzle often depends on how the puzzle image is presented on the box making it an integral part of puzzle merchandising.
For smaller quantity orders of 350 or less of a single design, we offer a pre-printed black flip-top puzzle box to which we attach a full-color, custom-designed printed label. This label is attached to the top of the box and one long and one short side, providing ample space for branding and other important information.
For larger order quantities of 350 or more of a single design, we offer the option of a 4-color offset printed custom-designed puzzle box. With this option, all sides of the box can be printed on, offering even more flexibility for branding and creative design. The Graphics Design team at the company works with customers to design the layout of their puzzle boxes and incorporate branding and other information. A 3D preview is provided for customers to see how their box will look, and once approved, production begins.
---
Quality Control and Missing Piece Guarantee
We take the quality of our puzzles seriously and have a series of quality control checks at each stage of the printing and production process with the aim of ensuring each puzzle is of the highest quality before it is shipped to our customers.
We also understand the importance of a complete puzzle. We take extra care when packing puzzles to ensure that no pieces are lost during the process. Mistakes can happen, and pieces can go missing so therefore we offer a Missing Piece Guarantee to our customers. If you do encounter a missing piece, let us know and we will refund the cost of the puzzle or credit you on your next order.
---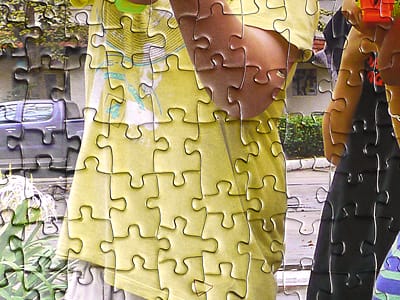 Unique Puzzle Piece Shapes

All custom made puzzles are not created equal and the shape and layout of puzzle pieces can make or break a puzzle-solving experience. A puzzle where every piece is identical in size and shape can quickly become dull and frustrating. To solve this problem, we create and design our own puzzle dies, so the layout of the piece cut is unique to us. A good puzzle will have a variety of piece shapes. For this reason, we offer a range of piece sizes and shapes in all of our larger puzzles.
---
Custom Die Design
Sometimes you need a specially shaped puzzle or a specific number of pieces. To meet these special needs, we can create and design a custom die-cut specifically for you. If your project requires a non-standard design, then send us the details and we would be happy to quote you for this. Minimum order quantities for custom die design orders start at 500 puzzles.
Answers To Some Common Questions: