Postcard Puzzles: The Essential Guide
What are Postcard Puzzles?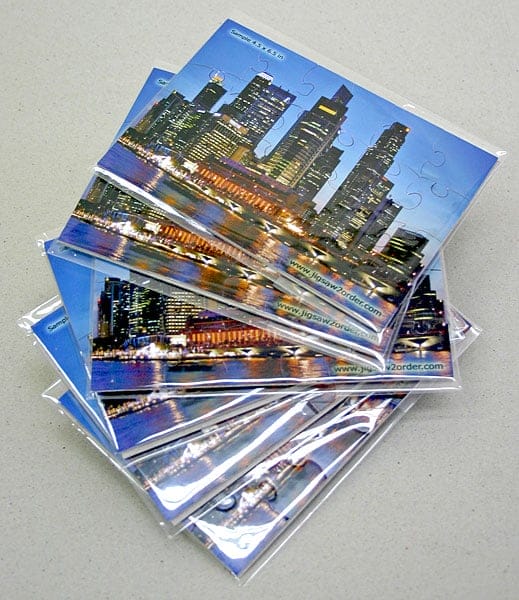 Postcard puzzles are a small but innovative form of Jigsaw Puzzles that have been gaining in popularity in recent years. Measuring around 4.5 x 6.5 inches, Postcard Puzzles are designed to look like postcards, complete with traditional postcard markings on the back. This makes them a truly unique and interactive way to share experiences with others, offer them as a gift, sell them as a souvenir, or use them to promote your brand.
What sets these puzzles apart from traditional jigsaw puzzles is their compact size and portability. They can easily fit into a purse or backpack, making them the perfect on-the-go entertainment for long commutes, road trips, or flights. Because they are designed to be sent through the mail, postcard puzzles are also excellent low-cost souvenirs popular with museums and tourist attraction gift stores.
Postcard puzzles can be printed to feature any image or a product, event, tourist attraction, or simply message. This makes them a fun and interactive item to promote a business activity or to launch a new service or product.
What are they made of?
Postcard Puzzles are relatively simple products manufactured in the same way as traditional puzzles.
The puzzle image is printed and then mounted onto stiff cardboard. The quality of the image and the way it is mounted will determine the overall appeal and durability of the puzzle. To ensure that the puzzle image is of high quality, we use photographic reproductions of your images.
The cardboard is then cut into puzzle pieces using a specially designed die. After the puzzle has been cut, it is then placed on a second cardboard backing plate which is then inserted into a resealable cellophane envelope. This protects it during shipping and handling.
Depending on their intended use, a printed branding sheet can be inserted to display at the back of the puzzle. Alternatively, if the puzzle is to be available, a printed label can be attached to the back of the cellophane.
Customization Options?
There are a number of ways you can choose to customize your postcard puzzle order:
1. Choose your puzzle size and number of pieces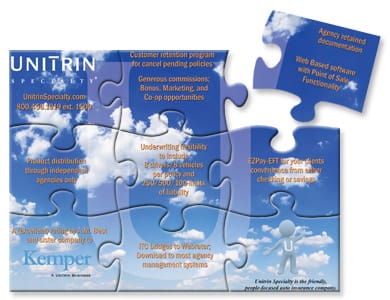 The traditional size for a postcard puzzle is 4.5in x 6.5in with 24 pieces however there is also a 9-piece version of this available. Sizes available with different piece counts are as follows:
4x6in – 4 pieces
4.5in x 6.5in – 9 or 24 pieces
5in x 8in – 15 pieces
6in x 8.5in – 16 pieces
2. Choose the images for the puzzles
As a customizable puzzle, you can choose the image you want to be displayed on the puzzle. It can be a photo, drawing, illustration, or simply a text message. Any image file should be saved as a high-resolution jpeg or pdf file in RGB format. Our graphics team can help with the formatting and resizing of images.
3. Decide if you want a printed insert
We can print and insert a flyer to be displayed on the other side of the puzzle. The flyer would typically be the same size as the puzzle itself. The insert can be normal or wrapped around so a portion of it is displayed at the front. The insert will be placed inside the cellophane envelope.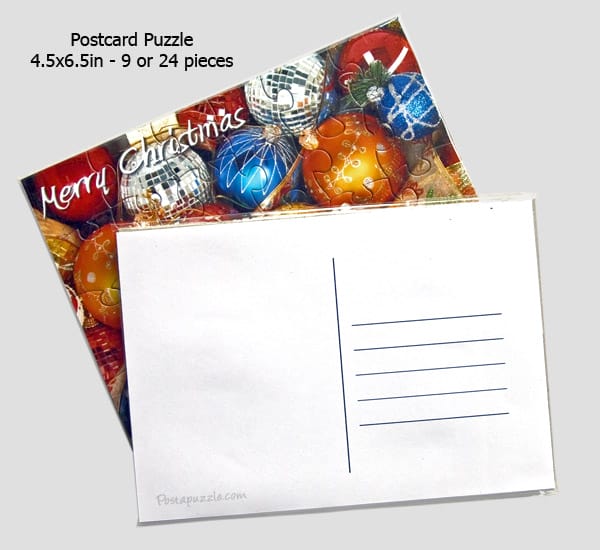 4. Decide if you want it mailable
If you decide on a mailable puzzle, then we can design, print and attach a white label at the back of the puzzle. This will have space to write a message, address, and attach a stamp just the same as a traditional postcard.
What are the benefits of using postcard puzzles?
Postcard puzzles offer several benefits, making them an ideal choice for both personal use and promotional purposes. Here are some of the top benefits of postcard puzzles:
Portable: They are small and easy to carry, making them perfect for travel or on-the-go entertainment. They are also ideal for sending as a fun and unique gift to friends and family.
Customizable: They can be customized with any image, making them a great way to showcase your artwork or promote your business. They can be designed to match a specific theme or event, adding a personalized touch to any occasion.
Affordable: They are an affordable alternative to traditional jigsaw puzzles, making them accessible to a wider audience. They are also cost-effective for businesses looking to promote their brand without breaking the bank.
Fun and engaging: They are a fun and engaging way to spend time while getting a message or brand across to your audience.
Unique marketing tool: They are a unique and creative way to promote your brand or business. They offer a lasting impression and can be used as a memorable giveaway at events, trade shows, or other promotional events.
In summary, postcard puzzles are an affordable, portable, and customizable way to promote your brand, share experiences with others, or simply enjoy a fun and engaging activity. With their unique design and customizable options, postcard puzzles offer a one-of-a-kind way to showcase your artwork, generate impulse sales, and promote your business.
The Market for Postcard Puzzles
Postcard puzzles can appeal to a wide variety of market segments and be sold in various types of stores as a point-of-sale impulse purchase. Here are some examples of store types and market segments where postcard puzzles may sell well:
Museum and Tourist Attractions: Museum and tourist attraction gift stores can be an excellent market segment for postcard puzzles, given their unique nature and the ability to feature images from the museum's collection or attraction.
Bookstores: Bookstores can offer postcard puzzles of local attractions in a similar way that traditional puzzles do.
Tourist Souvenir Shops: Tourist shops in popular tourist destinations can offer an ideal market for postcard puzzles, as visitors may be looking for a fun and unique souvenir to commemorate their trip.
Art Stores: Given the potential for postcard puzzles to feature artwork, art stores can be an ideal market segment for postcard puzzles, appealing to art enthusiasts and collectors.
Specialty Stores: Specialty stores, such as those that focus on home decor or craft supplies, can also offer a potential market for postcard puzzles, given the creative and interactive nature of the item.
Children's Stores: Finally, postcard puzzles can be a great impulse purchase for children's stores, as they offer a fun and interactive activity for children, while also functioning as a souvenir or keepsake.
Puzzle Postcards as a Promotional Item
First, custom-printed postcard puzzles are a unique and creative idea that if used correctly, can help businesses and individuals stand out from their competitors. Unlike traditional business cards, postcard puzzles can capture attention and make a lasting impression. For artists and photographers, postcard puzzles can showcase their artwork and bio in a way that is both eye-catching and memorable.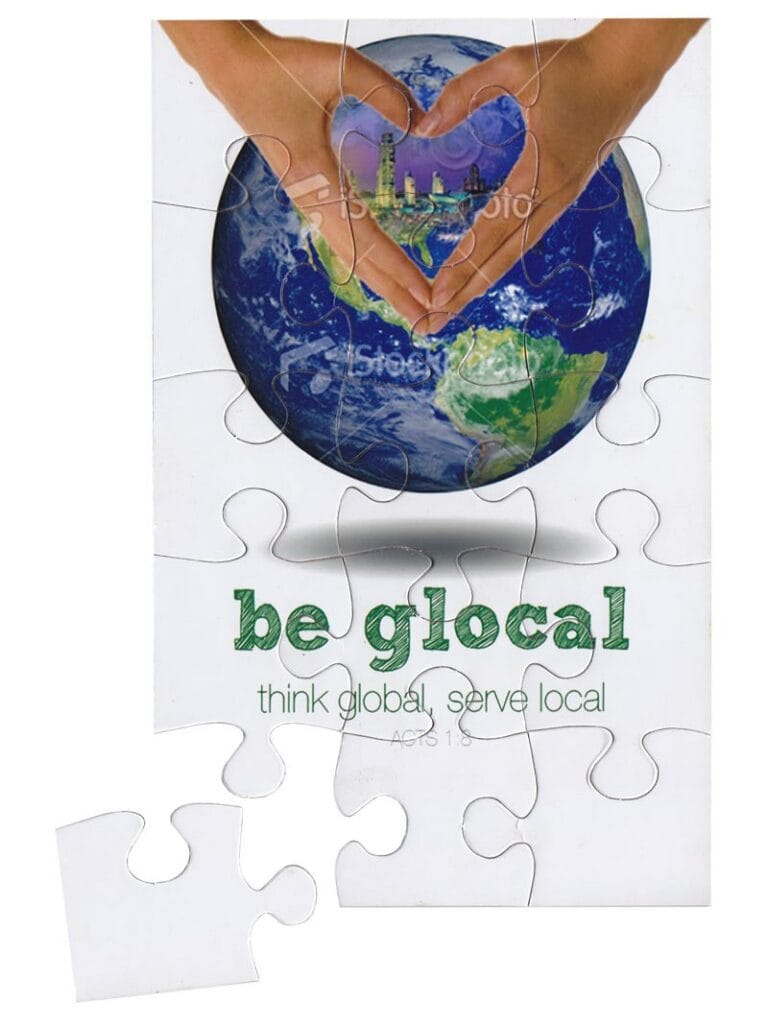 Second, puzzle postcards provide a fun and interactive way to promote products, services, or artwork. With their engaging design and challenging puzzle format, they can be an effective tool for building brand awareness and customer engagement. For example, a company could use a postcard puzzle to promote a new product launch, creating excitement and buzz around its brand. For artists and photographers, postcard puzzles provide an excellent platform to showcase their portfolios, generate interest in their work, and reach new potential clients.
Third, they are compact and lightweight, making them easy to distribute at events or send through the mail. They are ideal for promotional giveaways at trade shows or events, as they are easy to transport and can be handed out in person. Additionally, they can be included as part of a direct mail campaign, helping businesses to reach a wider audience with their message.
Fourth, puzzle postcards can be sent through the mail like traditional postcards, making them a unique and effective promotional tool. By including a postcard puzzle in a direct mail campaign, businesses can grab the attention of their target audience and encourage engagement with their brand. They can also be used as a creative way to thank customers or clients for their business or to keep them engaged with the brand after a sale.
Postcard Puzzles as a Gift Store Item
Puzzle Postcards are a popular souvenir item sold in the gift shop of a museum or other attraction. These puzzles offer a unique and creative way for visitors to commemorate their experience or take home a souvenir of their visit. They are inexpensive to produce, and the novelty of the idea is what attracts customers to them.
Museum and tourist attraction stores have long offered a variety of merchandise options to visitors, including postcards, keychains, and t-shirts, among other items. Postcard puzzles provide a different type of souvenir that combines the traditional postcard concept with a fun and interactive puzzle.
Not only do postcard puzzles offer a memorable keepsake, but they can also help promote the museum or gift store. Postcard puzzles can feature images of the museum or artwork from the museum's collection, creating a distinctive and branded item. Visitors may be more likely to purchase a postcard puzzle over other souvenirs due to its unique nature and interactive component.
In addition to being a memorable keepsake and promotional item, postcard puzzles can also be an additional source of revenue for museum and gift stores. With a low production cost and relatively high selling price, postcard puzzles can be a high-margin item for a gift store.
Another benefit of postcard puzzles is that they're compact and lightweight, making them easy to display and store in gift store settings. They're also easy for visitors and tourists to carry home with them.
By offering postcard puzzles in your gift shop, you can give visitors a unique and memorable souvenir to take home.
Postcard Puzzles for Artists and Photographers.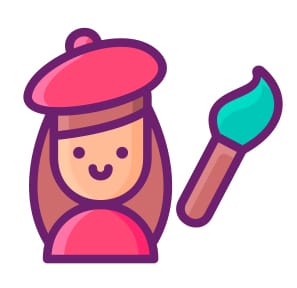 Postcard puzzles are popular among artists and photographers as a way to promote their work and present their bios in a creative and unique way. By featuring one of their popular pieces of art on the puzzle, the postcard puzzle serves as a visually appealing promotional tool for the artist.
In addition to the artwork, a printed insert can be included at the back of the puzzle. This insert can provide information about the artist, such as their biography, contact information, and details about their art style and inspiration. The printed insert can be customized to fit the artist's specific branding and marketing needs, making it an effective way to promote their work and connect with potential clients or customers.
Using postcard puzzles as a promotional item can also help artists and photographers stand out in a crowded and competitive market. The unique and interactive nature of the postcard puzzle can capture the attention of potential clients or customers and provide a memorable way to showcase their work.
Overall, postcard puzzles can be a valuable tool for artists and photographers looking to promote their work and connect with potential clients or customers. The combination of artwork and promotional information presented in a fun and unique way makes postcard puzzles an effective and memorable promotional item.
Postcard Puzzles as a Souvenir Item
Selling postcard puzzles as a souvenir item offers numerous advantages. Firstly, they are inexpensive to produce and can be kept in stock all year round. Secondly, they are a relatively new concept, which makes them more attractive and intriguing to visitors. They provide visitors with something unique and fun, which they won't be able to find elsewhere. Postcard puzzles also offer a great way to share experiences at a museum or tourist attraction with other people. Lastly, they are perfect little gifts or souvenirs that people can bring back with them.
In a time when digital and electronic items are everywhere, postcard puzzles provide a great opportunity to cater to a market that prefers the traditional, vintage feel of museums. Postcard puzzles are truly a delightful surprise in the mailbox and the perfect way to promote your museum!
Bottom Line
Postcard puzzles have gained popularity in recent years as they provide a creative and innovative way to share experiences, promote businesses and engage with art and culture. Due to their versatility, postcard puzzles are suitable for a wide range of consumers, making them a perfect fit for gift stores, online retailers, and promotional merchandise offerings.
As a small jigsaw puzzle mounted on a cardboard backing, it comes in a cellophane envelope and looks like a postcard with traditional postcard markings on the back. This feature makes it an ideal promotional tool that can be sent through the mail, potentially reaching a wider audience. With postcard puzzles, businesses and individuals can easily differentiate themselves from competitors while promoting their products, services, or artwork in a fun and interactive way.
The compact and lightweight nature of postcard puzzles also makes them easy to distribute at events and send through the mail, making them a great souvenir option for tourists. Overall, postcard puzzles are a unique and creative item that has a wide range of applications, making them an attractive option for businesses and individuals looking for something different to promote their offerings.
FAQ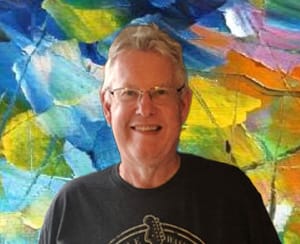 Founder and owner of TSG Products Inc., the Canadian company behind PuzzlesUnlimited.com and Jigsaw2order.com, one of the web's oldest sites offering personalized, custom-made jigsaw puzzles since 2002.
With over 2 million puzzles manufactured and collaborations with thousands of artists, photographers, museums, and corporations, Colin's expertise in the puzzle industry is unparalleled. His company, TSG Products Inc., is dedicated to producing high-quality jigsaw puzzles for customers worldwide, providing unique and creative products for the global market.