Customer Spotlight: Ventana Surfboards & Supplies
From Surfboards to Jigsaw Puzzles
In the heart of Santa Cruz, California, where the waves challenge even the most seasoned surfers, two companies have come together to create a unique product that captures the essence of the ocean and the spirit of adventure. Ventana Surfboards & Supplies, known for its commitment to artisanship and environmental responsibility, has collaborated with Puzzles Unlimited to bring to life a stunning 1000-piece puzzle that tells the story of both brands.
The puzzle, titled "Ventana Surfsquatch Treehouse," showcases one of Ventana Surfsquatch's iconic beach houses nestled in the redwood forests of the Ventana Wilderness in Big Sur, California.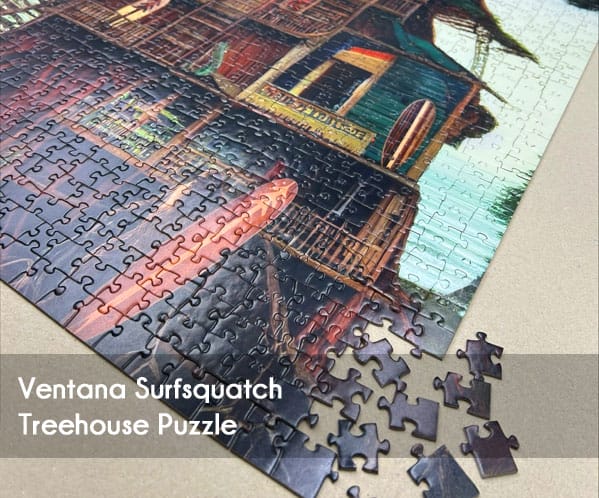 A closer look reveals hand-crafted Ventana surfboards and the elusive Ventana Surfsquatch himself. This intricate design, is not just a puzzle but a piece of art, capturing the essence of the Californian coast and the surfing culture.
Ventana Surfboards, co-founded by Martijn Stiphout and David Dennis, is more than just a surf company. They are an embodiment of artisanship, responsibility, and adventure. With a deep commitment to the environment, they craft hollow, reclaimed wooden surfboards and eco-surf supplies. Their products are not just functional but are surfable works of art.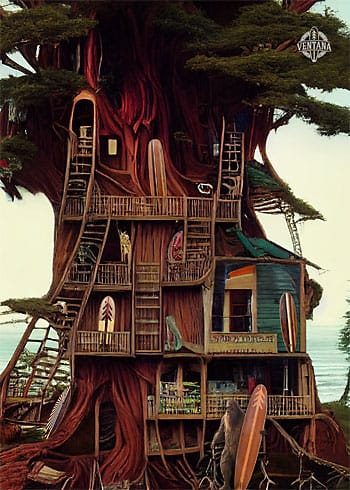 Martijn, with his background in marine biology and conservation education, brings a unique perspective to the brand. His experiences, from tracking marine debris to tagging Great White sharks, have shaped his vision for Ventana. With his passion for surfing, travel, and photography, David complements Martijn's vision, driving the brand's sales, marketing, and business development.
The "Ventana Surfsquatch Treehouse" puzzle is more than just a product; it's a representation of two companies' shared values and commitment to the environment.
David explains "Each order of the puzzle comes with a waterproof sticker and a Ventana leash cord key chain, adding to the uniqueness of the product". Moreover, Puzzles Unlimited's commitment to sustainability is evident in its production process. They prioritize using sustainable materials and are dedicated to reducing waste and its environmental impact.
This collaboration between Ventana Surfboards and Puzzles Unlimited is a testament to what can be achieved when two companies with shared values come together. It's not just about creating a product; it's about telling a story, sharing a vision, and making a positive impact on the world.
Whether you're a surfer riding the waves in Santa Cruz or a puzzle enthusiast looking for your next challenge, this puzzle is a celebration of the ocean, adventure, and the spirit of collaboration.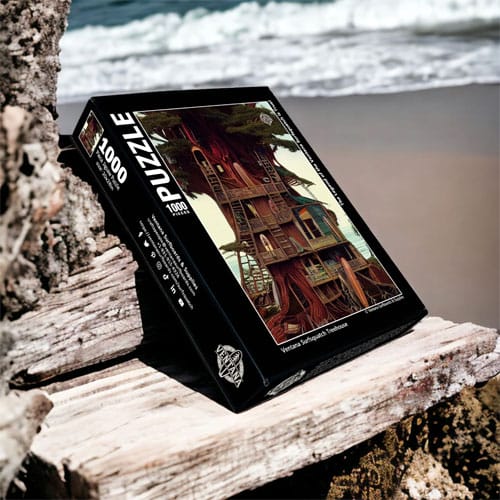 special Edition
VENTANA SURFSQUATCH TREEHOUSE 1000 PIECE PUZZLE
Founder and owner of TSG Products Inc., the Canadian company behind PuzzlesUnlimited.com and Jigsaw2order.com, one of the web's oldest sites offering personalized, custom-made jigsaw puzzles since 2002.
With over 2 million puzzles manufactured and collaborations with thousands of artists, photographers, museums, and corporations, Colin's expertise in the puzzle industry is unparalleled. His company, TSG Products Inc., is dedicated to producing high-quality jigsaw puzzles for customers worldwide, providing unique and creative products for the global market.