Jigsaw Puzzles for Museums
The Perfect Item for Museum Gift Stores
People everywhere – regardless of age – enjoy visiting museums and other attractions. And when the day winds to an end, museum owners count on their guests making a stop by the gift shop to purchase some memorabilia. For those museum and attraction owners who want to make more sales, there's no better item to keep in stock than attraction-related museum jigsaw puzzles.
Why People Love Museum Jigsaw Puzzles
One of the main reasons that guests love to buy custom-made attraction jigsaw puzzles is because these items allow people to take home a reminder of the fun that they had at the museum. We all love to have a souvenir to remind us of the places we've visited. And since these puzzles can be custom-made to feature attractions, sites, and displays that people visited, they allow people to make those memories last a lifetime.
Another reason that guests love to purchase these types of puzzles is that they are very engaging. Your museum gift shop might sell paperweights or other items, but they don't get people as excited as jigsaw puzzles. When you offer these puzzles in your gift shop, customers get to purchase an item that they will actually enjoy interacting with. People actually visualize putting puzzles together when they see the detailed pictures on the puzzle boxes. And they can't wait to get home, take the pieces out, and get started on putting their new puzzles together.
A third reason that people really enjoy museum puzzles is that gift shops can offer so many different choices. Many museums and attractions are loaded with lots of different exhibits and sites for people to see. Having all of those points of interest available as a gorgeous, detailed puzzle allows people to pick and choose from all their favorite attractions. And many times people have multiple favorites, so they end up purchasing several different puzzles to enjoy at home.
Why Museum Owners Love Custom Jigsaw Puzzles
Museum owners and staff really enjoy having these custom-made, detailed puzzles in stock. Here are a few reasons that owners really get the most out of these puzzles:
Getting them produced is relatively inexpensive.
They are professional quality puzzles that guests enjoy looking at and purchasing.
They come in professionally packaged detailed boxes.
Guests of all ages enjoy browsing through them and purchasing their favorites.
Any time you can find items for a museum gift shop that both customers and owners enjoy, you know you're on to something good. People have always enjoyed collecting jigsaw puzzles, and everyone loves a souvenir. So when you put the two of these factors together in a custom-made museum jigsaw puzzle, you end up with a gift/souvenir that is a guaranteed hit.
Find more information on how you can order a custom-printed Jigsaw Puzzle for your museum or Request a Quotation.
Why Jigsaw Puzzles are a Great Way to Promote Your New Exhibit or Attraction
When museums open a new exhibit things can get pretty exciting. Of course, to make that excitement contagious and to bring in new customers to check them out it takes a certain amount of PR. And since people love getting their hands on new souvenirs and gifts, it's smart to have some promotional items on hand that you can use to promote your newest exhibit or attraction.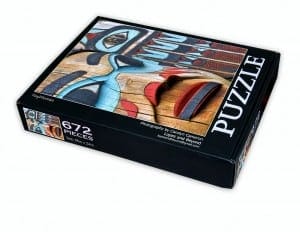 That's where jigsaw puzzles come into the equation. These puzzles can be custom-made to feature any artwork or photograph that you desire so they are a natural way to publicize those new attractions to the public. Unlike other, generic and common custom-made products, jigsaw puzzles reflecting the image of a new exhibit or attraction are the type of item that people really enjoy getting their hands on. Puzzles always end up being passed around between family members and friends and are often used time and time again over many years.
Here are some of the benefits both you and your guests get when you offer attraction-related jigsaw puzzles:
They get the Word Out
When people purchase or receive a custom or promotional puzzle as a giveaway, you're doing your part to get the word out on the streets about your newest exhibits. Word of mouth is always a welcome form of publicity, and since people really enjoy working on these puzzles, they naturally want to share the experience of putting them together with their friends and family. So the customer gets the fun of putting the puzzle together with their friends, and your new attraction gets automatic word-of-mouth notoriety.
People get a sense of Ownership and Engagement with your New Exhibit or Attraction
When someone takes a new custom-printed museum puzzle home that features an image of a key exhibit or other artwork, they feel like they actually have a small piece of that exhibit in their own homes. And that feeling of ownership ensures that these guests will come back again and again to see their favorite new exhibit.
They are an Inexpensive Way to Promote your New Attraction
Even better than postcard marketing, you can use postcard puzzles as a very cost-effective way to promote your attraction to your mailing list or as an event giveaway. Unlike some other items, you can purchase custom-printed postcard puzzles with your marketing message and image at very reasonable prices.
Using postcard puzzles as a marketing tool is unusual and noteworthy and is guaranteed to get the attention of the recipient. So if you have money figured into your advertising budget, you can use these puzzles as a very inexpensive giveaway item or direct mailer to attract new visitors.
Read more about our Postcard Puzzles here.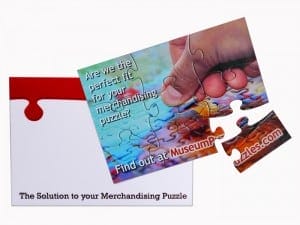 A Source of Income to Help Cover the Cost of Visiting Attractions
Museum jigsaw puzzles allow zoos, museums, and other tourist attractions to recoup some of the costs associated with putting new exhibits on display. If you have something that people want to see, there's a good chance that you sunk a fair bit of money into that exhibit. Selling custom-made "Limited Edition" museum puzzles in your gift store is a great way to make some of that money back. And since you can mark up these puzzles at a premium cost – after all, they are custom-made items – you make a tidy profit on every unit sold.
Do your part to make your newest zoo or museum exhibit a smashing success. Consider some of the things mentioned in this article, and put these fun, engaging jigsaw puzzles to work promoting your latest exhibit to the public.
The Educational Benefits of Museum Jigsaw Puzzles
Museum gift shops really are wonderful places. These stores are usually the last stop for museum guests; before they go home for the day. As such it's imperative that museum and attraction owners stock their gift shops with the types of items that people really enjoy purchasing. But stocking the right items doesn't just begin and end with the purchase; you'll want to make sure that the items you sell in your gift shop also impart a bit of fun and some education for your customers. After all, museums are all about education and enjoyment, so it's no wonder that museum jigsaw puzzles are such a hit with museum guests.
Combining Education with Fun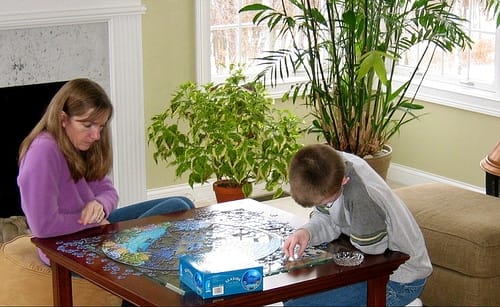 These puzzles are those rare souvenirs that serve as a reminder of the museum experience, an educational item, and a reminder to the guests about all the fun that they had while visiting the museum's attractions. And they really do hit home as some of the most educational gifts that people end up purchasing from the gift shop. But what is it that makes these puzzles so educational? Here are just a few of the reasons that museum jigsaw puzzles are such enlightening items.
Concentration is Required
In order for someone to put a puzzle together, they have to concentrate. That means that when people purchase and put together museum puzzles, they have to really pay close attention to the details. The entire experience of taking the individual pieces and putting the entire puzzle together allows people to study the details printed on the puzzle while doing something engaging and fun.
When you combine fun with the learning experience, as you do when you offer museum jigsaw puzzles to your guests, you give them the opportunity to have fun as they assemble these puzzles. And that means that they will internalize and remember all about their favorite exhibits and attractions on a whole new level.
Fun & Learning for Everyone
When people purchase museum jigsaw puzzles, they usually end up putting the puzzles together with other family members and friends. That means that people who may not have even visited your museum get a chance to learn about the exhibits featured on these puzzles. So even non-guests end up getting a bit of an educational, yet very fun, learning experience.
More often than not, these folks will be so intrigued about the museum, simply from putting these puzzles together, that they can't wait to actually visit the museum in person.
It's always the goal of museum owners and management to pass along fun, engagement, and education to all their guests. And since museum jigsaw puzzles pack in all three, it's easy to see why they are perpetual best sellers and customer favorites at museum gift shops all over the world. And since these souvenirs literally fly off the shelves, to the tune of very nice profits for the gift shop, you can bet that museum puzzles are sure to be some of the most in-demand museum gift shop items for many years to come.
Marketing Support
It's important to promote a new product in order to make it visible to gift store shoppers. This is even more important when it is a highly visual product such as a Jigsaw Puzzle. It's a great idea to show a completed puzzle in your store so shoppers get a chance to see the completed puzzle and its size.
To help with the successful launch of a new Jigsaw Puzzle in your gift store, we offer a range of marketing support materials and services. Depending upon your order quantity, we also offer a selection of these items free of charge with each order. Additional quantities can be purchased for a nominal fee.
Digital 3D images of your puzzle boxes
As part of the order process, we provide you with high-resolution 3D image representations of your boxed Jigsaw Puzzle. These are great for promoting your puzzle products in both print brochures and online. Use these on your website as product images or in emails to announce the availability of your new puzzle products. Standard versions of these are available free of charge with your order. If however, you need further graphical layouts of your range of puzzle products, for an additional fee our in-house Graphics Designer would be happy to put these together for you.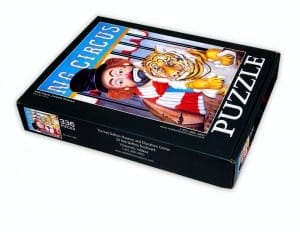 Sample Puzzles for Wall Display (50% off)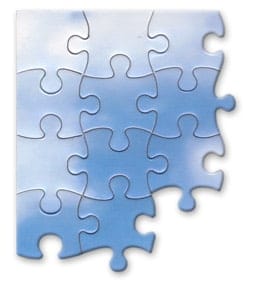 Displaying a full-sized puzzle on your gift store wall is a great way to showcase your new range of custom-made Jigsaw Puzzles. To make this easier, we can produce a 50% cut puzzle. This basically means that the puzzle will be cut only halfway through. From the front, it will look like a completed Jigsaw Puzzle but the piece will not come apart. This makes it a great item to use as a wall display.
Please note that to make shipping easier, we do cut larger puzzles into two pieces with each piece then being 50% cut. The two sections can then be easily fitted together to display the completed puzzle.
Empty Puzzle Boxes for Display Purposes
We can also supply empty Jigsaw Puzzle boxes which are great for use in gift store displays. The boxes will look exactly the same as the retail puzzle but will not have the actual puzzle included inside. This makes them lighter and easier to display on shelves and on the wall.
Depending upon your order quantity, we do provide a small quantity of these items free of charge with your trade order. Please contact us for more information.
Our Jigsaw Puzzle Box Designs
This is the "New Look" of our Jigsaw Puzzle boxes. You can of course still request a different layout or changes to this layout when placing your order.